Embrace is looking for a content creator who can effectively use multimedia to bring narratives to life. This is a Cape Town-based post, with domestic travel required.
We're looking for a vibrant, creative, hardworking and self-driven individual who will manage and grow our online presence, produce multimedia content and facilitate online engagement with our audience. The Content Creator will assist the Communications and Advocacy Strategist in creating and implementing campaigns and developing engaging social media content.
About us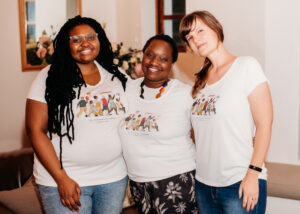 We're a national social movement for mothers, passionate about elevating the voices and lived experiences of mothers. As a movement that advocates for the priorities of early motherhood; we value and celebrate motherhood and mothers, and the critical role they have to play socially, economically and politically. Our vision is for South Africa to become the best place to grow into motherhood.
About you
The ideal candidate should
LOVE social media! You know what makes an awesome TikTok or Instagram Reel video and are constantly keeping up with new trending sounds, music, transitions, formats and online communities;
have strong creative and conceptual skills;
have a technical understanding of digital platforms and mobile video production and editing;
have previous experience creating and publishing social media content (photo and video) for a brand;
love to be in front of the camera and be comfortable filming with both camera and mobile;
have an openness to adopting new trends and technologies;
have the ability to be responsive, creating content to leverage these trends;
have the ability to multitask and work in a team environment;
have the ability to work independently and follow through on tasks;
the ability to translate campaign objectives into communications products;
be articulate and persuasive; strong written and verbal communication skills
be an insight-miner – someone who loves looking at data to understand what worked, what flopped, and how to improve future campaigns;
understand algorithms and how to amplify content, and;
have a passion for social justice and want to drive change in South Africa.
Duties & Responsibilities:
Ideate, shoot, edit, caption and post content across all Embrace digital channels (social media and website)
Managing social media accounts on various platforms including, but not limited to, Instagram, TikTok, Twitter, Facebook, YouTube, LinkedIn, WhatsApp and website, helping to engage and grow our audiences
Executing social media plans, scheduling social media calendars, and regularly updating digital platforms
Facilitating online conversations with our community and responding to comments and questions, as well as monitor feeds across social platforms
Tracking, analysing and reporting website and social media analytics, producing monthly status reports
Determining and executing cross-promotional opportunities
Build and maintain relationships with key influencers and like minded brands in the space
Develop social media strategy together with the Communications Lead
Translate research into bite sized content and compelling stories for a diverse audience
Visualise data and simplify complex information using infographics and explainer videos etc
Minimum requirements:
A tertiary qualification in a media or communications related field
Minimum two years relevant experience in content creation and social media management
Experience in planning and scheduling a content calendar
Proven track record developing high quality video, photography, designs and brand content for web and mobile
Experience in WordPress not required but advantageous
We offer:
An exciting opportunity to tell interesting stories in innovative ways to diverse target audiences
A market-related salary
An open and dynamic corporate culture
The opportunity to do meaningful work and contribute to social change
Send us an application comprising of
a one-page cover letter telling us why you are the person we're looking for
a 1 page CV, that includes three links to examples of previous work
a short-form original video (60 seconds max) responding to the question: What's the one thing that needs to change for South Africa to become the best place to be a mother? Include the link to your video in your the body of your email (use WeTransfer to share file; videos must be no larger than 10MB)
Applications that do not include all of the above will not be considered.
Application deadline: 20 September 2022
Send applications to: cv@embrace.org.za
For any questions (not applications), contact info@embrace.org.za