The World Alliance for Breastfeeding Action often speaks about the "warm chain". It advocates for linkages between different actors across the health, community and workplace sectors to provide a continuum of care during the first 1000 days of a child's life.
Studies have shown that organisational and managerial support for the implementation of mother-friendly workplace policies have a positive impact on the duration of exclusive breastfeeding among female employees, and contributes to improved job satisfaction, as well as better staff retention. At the same time, research shows that South African workplace remains largely unaccommodating to breastfeeding employees. As a result, lactating employees are forced to abandon breastfeeding when they return to work.
Supporting women's right to breastfeed is one way to promote gender equality in the workplace. And it's actually not difficult or expensive to create a pro-breastfeeding work environment. We spoke to Chandra Roberts, Office Manager at the DG Murray Trust (DGMT), an organisation 'getting it right' when it comes to supporting new parents. We asked her about DGMT's efforts to support breastfeeding and are some important things they've learned through the process.
Tell us a little bit about your organisation
DGMT is a charitable trust that funds strategic partnerships and NGOs mainly in Education & Early Childhood Development.
Does your organisation offer lactating employees breastfeeding breaks in line with the country's "Code of Good Practice on the Protection of Employees and Basic Conditions of Employment" Act of 1997 (i.e. at least one 60-minute break or two 30-minute breaks every day)?
Yes.
Does your organisation have a mother's room or breastfeeding room, where breastfeeding employees can express milk?
Yes.
What's in breastfeeding room – features, appliances or consumables – to aid breastfeeding?
Clean room that is lockable and private
Fridge to store breastmilk
Electrical outlet
Comfortable chair/couch
Disinfectant wipes, breast pads, nipple cream or other consumables
Employer-provided small refrigerator for storing milk
Waste bin
Printed educational resources about breastfeeding obtained from a reputable source
Desk or table top space to hold breastfeeding items
Attractive design elements e.g. wall hangings, floral arrangement etc.
Does your organisation subsidise childcare?
We have an education allowance. The purpose of the scheme is to allow employees to choose a better school for their child than they would otherwise be able to.
Does your organisation offer parental leave? If so, please specify all parental leave options offered.
Yes. Mothers who have given birth have 16 weeks leave, with partial pay (i.e. salary less UIF). Fathers have 10 days with partial pay. Adoptive parents have 10 weeks with partial pay. Parental leave is available to parents who do not qualify for maternity leave, adoption leave or commissioning parental leave. DGMT grants an employee, during each annual leave cycle, at the request of the employee, 10 days' paid leave, which the employee is entitled to take when the employee's child is born, or the date on which an adoption order is granted; or the date on which a court places a child in the care of a prospective adoptive parent. An employee who enters into a surrogate motherhood agreement with a surrogate mother is entitled to 10 consecutive weeks, which the employee is entitled to take when the employee's child is born. An employee who adopts a child that is younger than two years shall qualify for adoption leave of 10 consecutive weeks.
South Africa currently faces a maternal mental health crisis. It's estimated that 1 in 3 women suffers from depression and/or anxiety during pregnancy or after childbirth. Does the organisation provide access to mental health support?
Yes. DGMT has made a set of wellbeing services available from leading Employee Health and Wellness provider, ICAS. These services include unlimited telephonic counselling; up to 8 face-to-face counselling sessions on any particular issue; some financial and legal advice; and some health (mental, emotional, physical, life management etc.) advice and services. These services are completely confidential, and are also available to employees' immediate family members in their household.
Are employees aware of the provisions contained in labour legislation and policy? If so, how are employees informed of these provisions and rights?
DGMT has a staff policy handbook, which is a guideline to protocols and procedures in line with the law. Employees who take maternity leave and require any provisions at the office upon their return usually reach out to their line manager and the Assistant Finance Manager in HR & Operations who provides guidance.
Do you have flexible working arrangements?
Yes, we do. Since the start of the COVID-19 pandemic, DGMT has provided flexible workplace arrangements. It is expected that staff work from office at least 3 times a week. If any special provisions are required, staff would need to motivate this to the CEO for consideration at the CEO's discretion. I'd say we are a family-friendly organisation.
What was your motivation for establishing a breastfeeding-friendly workplace?
At the time, we had a year of a handful of first-time mums returning from maternity leave who needed a safe space to express milk. We supported staff to create ease for mothers during working hours too. Because DGMT is particularly committed to ensuring the best start in life for children in the first 1000 days, it made sense to demonstrate our commitment by setting up this room, amongst other measures.
Have you seen any benefits to creating a mother-friendly workplace? Would you encourage other employers to seriously consider workplace policies, and why?
Yes. I think it created greater satisfaction for staff (in this instance, mothers) at work. Staff feel respected and supported in their work and motherhood. Breastfeeding is visible and supported in our workplace, and is seen as a key part of the healthy development of children and parents. It gives us the opportunity to demonstrate best practice in some of the priority areas in which we work.
In trying to establish a more inclusive workplace, what were some of the challenges you've encountered and what have been some of your learnings?
In my view, the breastfeeding room currently has dual functions in that it is also home to our library and a podcasting room. At times, this may cause some discomfort around scheduling time for each required use of the room. We have provided a key to be able to lock the room for privacy. We have also put up a "do not disturb" sign so there could be less disturbances or interruptions of someone knocking and checking if the room is vacant.
What can we do as a society to change the lack of adequate support for breastfeeding employees?
We could identify a taskforce with a focus on increasing the footprint of safe spaces for breastfeeding in the workplace and getting consultants to work with organisations so we can be better informed and in turn provide better support. Support can also include raising more awareness with internal staff messages, showing how we are protecting both employer and employees, and a commitment to non-discrimination. Also, perhaps directing staff to the nearest clinics or facilities or contact centre to address queries, and providing emotional and social support to employees.
Resources:
Need a step-by-step guide on how to better support breastfeeding employees? We've got you!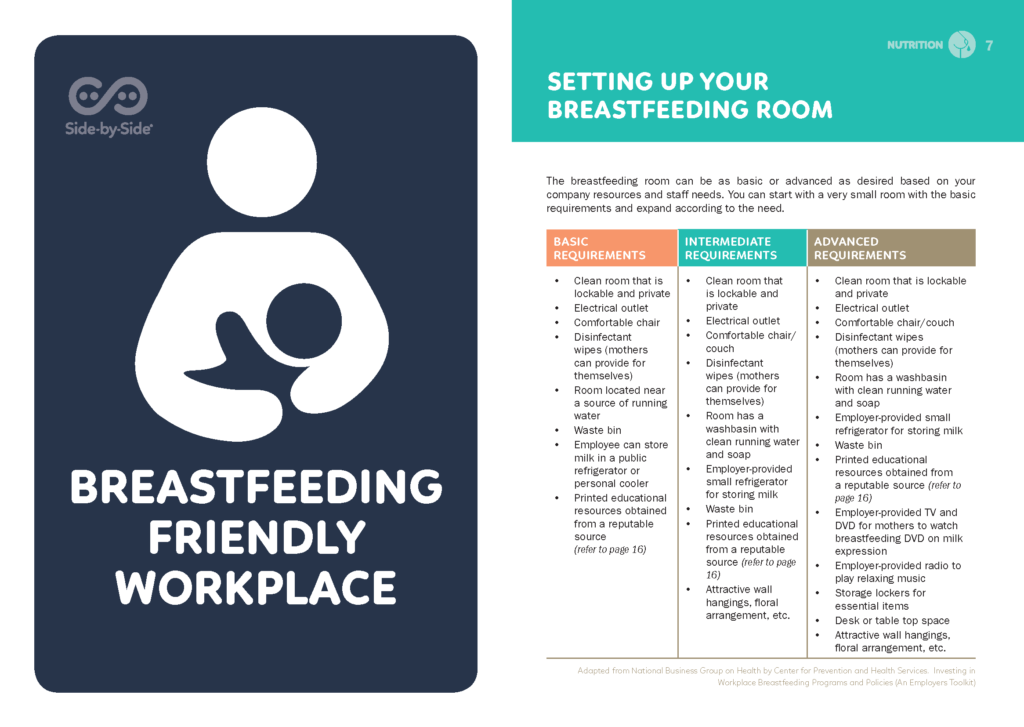 Side-by-Side is a national campaign working to ensure that all children under 5 receive the nurturing care. The campaign has developed a guide to "Breastfeeding in the Workplace". This guide was written to support the practice of breastfeeding in South African workplaces. It contains practical information for employers and managers of big, medium and small organisations on how they can create breastfeeding-friendly workplaces.

The guide is also for employees. So, if you're currently pregnant or a working mom, we encourage you to read it to understand your rights.
Talk to us:
Are you an employer in the informal sector who has managed to create a breastfeeding-friendly work environment for staff? We'd really like to hear from you. Send an email to info@embrace.co.za