New documentary series exposes the pervasiveness of obstetric violence in South Africa
Obstetric violence often goes unnoticed and under-reported despite its pervasiveness, largely because it is not recognised by South Africa's legal system as a form of gender-based violence. Obstetric violence comprises a host of human rights violations perpetrated by the very people who are meant to protect, and provide support to, women and birthing people during pregnancy, labour, childbirth and in the postpartum period. 
Coinciding with the internationally recognised 16 Days of Activism period, Embrace, a social movement for mothers, teamed up with filmmakers and impact agency Makhulu Media to expose the extent of obstetric violence in our country. Through research and interviews, Push Comes to Shove, shows that obstetric violence is a common yet preventable barrier to accessing quality and dignified healthcare.
The five-part documentary series reveals how trauma is inflicted on mothers in various ways – subtly and overtly – when they are pregnant, labouring or newly postpartum in both public and private healthcare sectors.
"Our organisation has worked hard to elevate the stories of women who have experienced obstetric violence. The logical next step was to co-create this series of short films with visual story-telling agency Makhulu and mothers who have been wanting to share their stories," says Embrace's movement leader, Julie Mentor.
"By launching the documentary series during the 16 Days of Activism against GBVf, we are making the link clear that obstetric violence is in fact gender-based violence and needs urgent attention," she explains.
"The abuse of women during pregnancy and childbirth is not new," explains gender justice expert, researcher and activist Dr Jess Rucell, who describes obstetric violence as an intersection of sexual reproductive health rights, GBV and femicide (GBVf).
According to Rucell, obstetric violence in South Africa is rooted in systems that have historically denied the agency and autonomy of women, especially black women, in the context of enslavement, colonialism and apartheid. But the root causes are often overshadowed or overlooked, compounded by a lack of accountability in the healthcare system.
"It is a structural problem that is found globally in both developed and less developed countries. While it is important to hold individual actors accountable, it's also necessary to find structural solutions," she says.
A serious violation of human rights
"Currently, obstetric violence isn't recognised in the law, and that needs to change," asserts Basetsana Koitsioe, a gender justice attorney at the University of the Witwatersrand's Centre for Applied Legal Studies (CALS).
"Any violence experienced by women while accessing reproductive healthcare should be considered a serious violation of human rights," she adds.
"We at CALS believe that it is crucial for women to tell their own stories and expose a form of gender-based violence that is not only widespread in our healthcare system, but also, most often, normalised or even ignored."
Koitsioe joins Rucell as an expert voice on the docuseries, providing additional insight into obstetric violence and its legal parameters. She describes as "an essential tool" to draw attention to the issue.
Sharing four women's lived experiences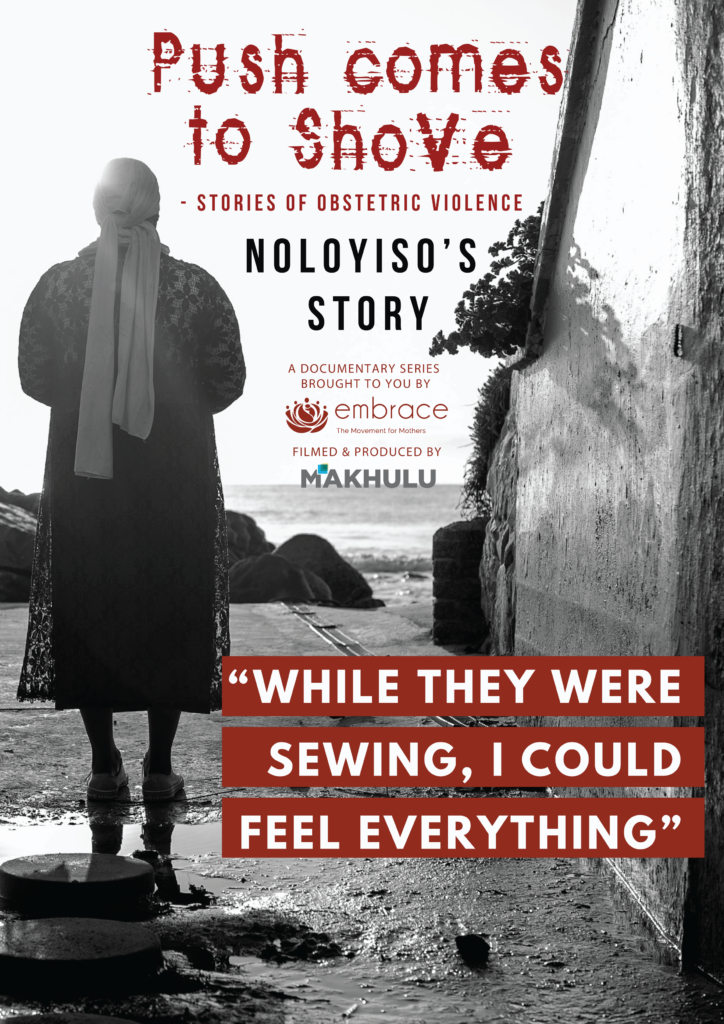 "If it was switched around, and men were delivering babies, would this still happen? I doubt it," notes Prof. Lynette Denny, weighing in as former department head of the University of Cape Town's Department of Obstetrics & Gynaecology.
Also adding her voice to the series, Denny notes that the only way to stop obstetric violence is to expose it. The first episode of Push Comes to Shove provides an overview of obstetric violence in South Africa, with insight from researchers and healthcare workers who are committed to eradicating these practices on the frontlines of our hospitals and clinics.
Live Screenings
The first screening will take place in Sandton, Johannesburg on 30 November 2022. This event is being hosted in partnership with corporate and commercial law firm Bowmans, in support of those who have experienced obstetric violence across South Africa.
Moderated by Embrace, panel discussions about obstetric violence will follow each screening. The Johannesburg panel will include representatives from CALS, obstetric violence support group Hopeville Foundation, and the Treatment Action Campaign.
Meanwhile, the Cape Town screening of the docuseries will take place on 8 December 2022 at the Desmond and Leah Tutu Legacy Foundation.
Embrace will moderate two panel discussions at the Cape Town launch. The first will feature two of the women profiled in the films, author Shana Fife and doula Noloyiso Williams, with Sydelle Willow from Makhulu. The second includes representatives from the Perinatal Mental Health Project, the Women's Legal Centre, and civil society organisation Activate!
While booking is essential, each screening is free to attend and will be followed by light refreshments. An opportunity will be made available at the screenings for individuals and organisations who would like to partner with Embrace to screen and distribute the films.
Media Enquiries
Nonkululeko Mbuli
Tel: +27(0)79 367 1991 or email: nonkululeko@embrace.org.za