MEDIA RELEASE: Screening of Push Comes to Shove documentary draws gender justice advocates, healthcare professionals and mother-supporters
According to Embrace's movement leader Julie Mentor, the idea for Push Comes to Shove sprouted from a birth justice lekgotla hosted by the social movement in 2021. This prompted Embrace to host a series of birth story circles which offered mothers a platform to share their first-hand experiences of obstetric violence and process their trauma with other women who have been there.
"We hosted these sessions so that mothers could find comfort in a community of other mothers who understood what they had been through," said Mentor at the Johannesburg launch of the documentary series.
Mentor and her team hosted the birth circles privately to ensure that the women who shared their stories felt safe enough to share their experience. From these conversations, three things became evident:
Birthing persons did not know that there was a name for what they had experienced.
They questioned why society is so silent about the seemingly pervasive issue.
They wanted justice.
The importance of respectful maternal care
Just over a year after the birth justice lekgotla, birth advocates, healthcare workers, civil society representatives, impact organisations, and survivors of obstetric violence gathered at the offices of corporate and commercial law firm Bowmans for the first public viewing of the documentary series.
"We are honoured to have hosted this event at our Johannesburg office as we observe 16 Days of Activism Against Gender-Based Violence (GBV). We believe that this collaboration with Embrace will assist in giving exposure to this lesser-known violence against women, contributing to the broader work we do in this area of the law," noted Bowmans pro bono manager Fatima Laher.
A panel discussion followed the screening of the five-part series. Moderated by journalist, digital content creator and motherhood activist Gaopalelwe Phalaetsile, the discussion included representatives from Embrace, the Treatment Action Campaign (TAC) and Hopeville Foundation, a support group for forced sterilisation victims.
Phalaetsile, who is also founder and director of Abortion Support South Africa, described the evening as emotional but eye-opening.
"The screening showed how far reaching GBV is, and emphasised the importance of respectful maternal care. Despite South Africa having one of the best constitutions in the world, there are still so many human rights violations that continue to take place in this country, specifically to women and birthing people," she said.
Another key takeaway from the post-screening panel discussion and Q&A session was the rampant intersectionality of obstetric violence. Those with additional vulnerabilities – including teenage mothers, gender-nonconforming people, women living with HIV, unmarried women and migrant women – are more likely to experience obstetric violence at the hands of caregivers.
Access to the experiences of mothers on the ground
Representing the TAC in the panel discussion, research officer Makhosazana Mkhatshwa added that Push Comes to Shove and the post-screening discussion highlighted just how difficult it is for obstetric violence survivors to secure justice in South Africa.
Nevertheless, the TAC is grateful for the work Embrace has done to spotlight obstetric violence as an overlooked and underreported form of GBV.
"We're looking forward to being continuously involved in exposing obstetric violence and empowering communities to stand up against it," said Mkhatshwa.
Likewise, the University of the Witwatersrand's Centre for Applied Legal Studies (CALS) prioritises its partnership with social movements like Embrace to address glaring social issues.
"Working with Embrace has given CALS access to the experiences of mothers on the ground who have a history advocating for women's rights in the health and reproductive sector. Through those partnerships, CALS collaborates with Embrace and its partners to amplify this work," noted Basetsana Koitsioe, a gender justice attorney who represented CALS as one of the panellists.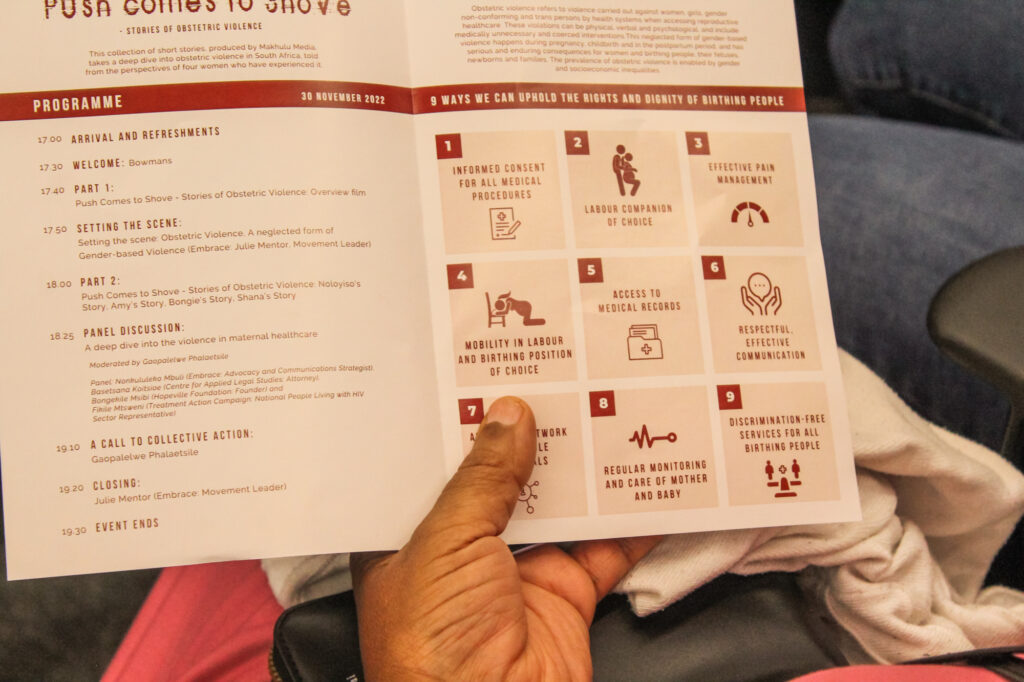 Engaging healthcare professionals
Remarking on the diversity of audience members at the documentary screening, Koitsioe also took note that, while the films centred the obstetric violence victims and their stories, the Q&A session focused on the experience of healthcare practitioners.
"It is clear that there is a need for human rights education workshops for students in the healthcare sector to enable them to make assessments of what rights violations look like in the health space. The event was highly successful, widening the pool of partners and networks in the obstetric violence ecosystem," said Koitsioe.
Recognising obstetric violence as a systemic crisis in obstetric care, Embrace was encouraged by the number of healthcare professionals – including midwives, doctors and nurses – who attended the screening and engaged in the Q&A session.
As frontline workers at the coalface, healthcare professionals are integral to any discussions that could impact on public policy. This includes declaring obstetric violence as a form of GBV, addressing obstetric violence through the framework of the National Strategic Plan on Gender-Based Violence and Femicide, and implementing respectful maternity care policies across all institutions in accordance with the South African Maternal, Perinatal and Neonatal Health Policy.
As a movement, we look forward to many more opportunities to screen this critical collection of short films and to help facilitate discussions with viewers about obstetric violence and its pervasive impact.
See you in Cape Town
Still to come, the Cape Town screening of the short films will take place on 8 December 2022 at the Desmond and Leah Tutu Legacy Foundation.
Embrace will moderate two panel discussions, with the first featuring two of the women profiled in the films, author Shana Fife and doula Noloyiso Williams, as well as Sydelle Willow from Makhulu. The second panel will includes representatives from the Perinatal Mental Health Project, the Women's Legal Centre, and civil society organisations Activate! and Health Advocacy & Clinical Compliance South Africa.
About Embrace
Embrace is a social movement for mothers that values and celebrates motherhood and mothers and the critical role they play socially, economically and politically in South Africa. We advocate for the priorities of early motherhood and are committed to raising awareness about the scourge of obstetric violence.